May 4, 2021 by Cathy Stack
Macon, GA - Monique and Sylvia have been close friends for six years and have helped one another through personal adversities and loss. When Monique Dancy learned that her best friend was diagnosed with kidney disease and needed a transplant she desperately wanted to help. Her condition had gotten progressively worse and the doctors informed her that she would soon need a new kidney. Distraught, Sylvia confided in Monique and the two best friends prayed together. That was when Monique was inspired to offer Sylvia, whom she affectionately refers to as her 'big sister,' her own kidney.
Doctors conducted tests and determined that Monique would be a donor match. The friends were elated by the good news and immediately began processing the necessary paperwork for the medical procedure. However, there was one problem, in order to qualify for the surgery, she had to lose 35 pounds in order to meet the donor height and weight criteria. Monique wasted no time. She enlisted a personal trainer named Will to help her reach her new fitness goal. Will was not accepting new clients until he heard about Monique's motive. Her trainer personally related to the friends' journey as he himself was born with one kidney. He felt it was divine intervention that brought them together. He generously offered his training time to Monica for free.
Together, Will and Monique took up the fitness challenge, both fiercely determined to achieve the weight loss goal. Monique trained daily by running and doing weight training. She also focused on improving her nutrition. After 10 strenuous months. she shed the entire 35 pounds. Monique was now approved to be her donor.
"The way things were just set up, it was amazing and a blessing for him to help me make it to this point that we are at now," said Monique reflecting on her journey with her fitness trainer.
"We were in a race against time for her (Sylvia's) life and that's something very precious," said Will.
Monique credited her special bond with Sylvia as her motivation for her unique sacrifice. She said she was inspired by the thought of improving her friend's quality of life. While on her quest to save her friend, she also embarked on a healthier lifestyle that will remain with her the rest of her own life.
"Most friendships don't go this far. This is an exceptional situation and exceptional friendship," said Sylvia who is clearly grateful to her best friend's support and commitment. The surgery was a great success. Their journey made these close friends more like family.
PassItOn and The Foundation For a Better Life believes Monique Dancy is a true hero. Her exceptionally caring and selfless action is a great example of the value of sacrifice. Please help us celebrate Monique by sharing her heartwarming story.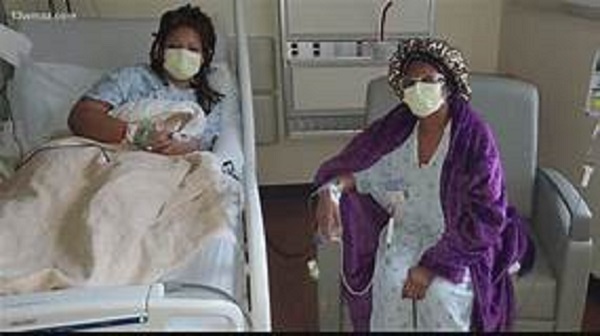 Watch video here: https://youtu.be/7ofTgs9FNR0
Please tell us about your everyday Hero. The Heroes among us are ordinary people whose actions leave a lasting and positive impact in their communities and demonstrate the potential in all of us. Their heroic acts uphold our shared values. Help honor these individuals by creating a billboard and sharing their story at: https://www.passiton.com/your-billboards/create
Sign Up to our PassItOn blog to be inspired: http://www.passiton.com/passiton-blog
Woman loses 35lbs to donate her kidney to her best friend #sacrifice #passiton Macon, GA - Monique and Sylvia have been...

Posted by Foundation for A Better Life on Tuesday, May 4, 2021
image credit - Facebook