Francis — whom his friends call Fran — is colorblind, and his friends wanted to give him the gift of color. A group of 30 of his closest friends and teammates banded together to pitch in funds to purchase a pair of innovative eyewear that would enable him to view the wide-ranging spectrum of vibrant colors the world has to offer.
When he walked out the door of his school building, Francis had no idea of the surprise that was in store for him. Suddenly, he was met with a group of his friends enthusiastically yelling, "Surprise! " He was confused because his birthday was weeks away. He then noticed the box held in his best friend's hand. He immediately recognized that the box contained the special glasses he had always wanted but could not afford. He suddenly realized the incredible gift his friends were offering him. Francis was so overwhelmed by his friends' thoughtful gesture that he broke down in tears of joy. The powerfully emotional moment was caught on camera.
"He knew what it was, and he immediately broke down, and I was in tears; I could see everyone behind him was in tears," said Francis' best friend, describing the big moment of the gift reveal.
Tears of joy poured down Francis' face as soon as he put the glasses on, which caused an emotional chain reaction within the whole group. His friends strategically wore bright, colorful clothing and placed different colored balloons in front of him.
"They're not the same!" he yelled in amazement as he looked at the balloons. He immediately fixated on a yellow leaf on the ground. He picked up the leaf and happily took it along on a campus stroll, where he continued to explore all the colorful sights surrounding him.
The friends understood the glasses offered no guarantee. Yet they still wanted Francis to have an opportunity to see the vibrant colors in the world in all its splendor: the lush green of the grass, the rusty yellow of foliage or the fiery orange color of a sunrise. The friends specifically wanted to give Francis his gift a few weeks early so he could enjoy the spectacular fall colors. It was the perfect time to appreciate nature's artistry in the shimmering yellows, oranges and reds of the changing leaves.
The innovative lens is called EnChroma glasses. The premium eyewear line uses technology that brings life-changing vibrancy to those with color vision deficiency. Seeing color in all its beauty has a profound effect on those who have never experienced it.
Francis loved the glasses, but he was particularly touched that his busy friends all banded together in his honor. His friends selflessly offered him that special feeling of being cared for, which he'll surely never forget as a treasured gift and lifetime memory.
PassItOn and the Foundation For A Better Life believe these friends are a group of heroes. Their caring action demonstrates the value of friendship. They show us all that the true gift exists in the beauty of the transformative friendships we form along our life journey. Please help us honor these caring friends by sharing their heartwarming story.
Watch video here: https://youtu.be/nG3-SypqqI0
Please tell us about your everyday hero. The heroes among us are ordinary people whose actions leave a lasting and positive impact in their communities and demonstrate the potential in all of us. Their heroic acts uphold our shared values. Help honor these individuals by creating a billboard and sharing their story at: http://https://www.passiton.com/your-billboards/create
Sign Up to our PassItOn blog to be inspired:
http://www.passiton.com/passiton-blog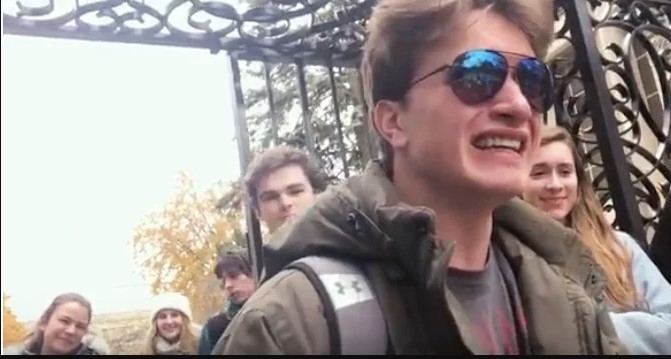 SHARE this inspiring story with your friends and family to uplift their day. If you find these posts inspirational, consider favoriting PassItOn on Facebook so you never miss out on our weekly posts.
Group of Friends Pitch in to Gift Special Glasses for Their Friend Who Is Colorblind #friendship #passiton Francis...

Posted by Foundation for A Better Life on Tuesday, November 16, 2021