After the hired contractor stole all of John's money, he could not afford to make any of the necessary home repairs. He was then forced to reside in the home without electricity, insulation, flooring, water or sewage for over a year.
John was never one to complain or ask for help from others. So, even in his time of crisis, he quietly struggled through the hardship alone. During a routine visit, Nate Jones, a Veterans Affairs officer, discovered how his friend John was living. Nate was shocked at the unsafe living conditions and reached out to his community to find a solution.
When John's community learned of his plight, they stepped in to help find a way to right the wrong. A local group of volunteer high school students of the Muncie Area Career Center decided to intervene. They felt a sense of obligation to help the veteran. They wanted to honor all the sacrifices that he and all other veterans have made for our country. So, the students called on the help of Jeremy Penrod, their construction technology teacher. The teacher agreed to assist the teens.
After inspection, it was determined that the home was in such disrepair that it would be best to tear it down and rebuild it from the ground up. Jeremy led the project and laid out the construction plans for John's new home. Then the students went right to work on the ambitious mission.
The local community generously helped support the project with monetary, material and labor donations. "This community really rallied together, and, man, it didn't matter what we would've asked of them, " Jeremy recalled.
"They (the students) didn't complain one day. They worked in the rain; they worked in the snow," said Jeremy, clearly impressed with the young students.
The teens showed up every morning, grabbed their tools and assignments, and worked together as a team all day. They performed various duties such as framing and drywall. They usually had no idea what the day's work or weather would involve, yet they persevered.
"There's guys in here that, the first day they came in here, they didn't know how to read a tape measure," high schooler Jayden Stevenson recalled. Despite not being professional contractors, the students completed the construction job in an astonishing 51 days.
The group of teens, as well as friends and neighbors, were all present to welcome John to his newly remodeled home. The anticipated moment arrived for the home's unveiling. As soon as John pulled into the driveway and got a glimpse of his beautiful home, he wept, overcome with emotion. He was incredibly grateful for the group's hard work and dedication, as well as the community's unwavering support.
As he walked across the yard to his brand-new home, the crowd yelled encouraging words, welcoming him home and thanking him for his service. "You were there for us. We're here for you, now," yelled one supporter.
"So many people donated their time and money to make it come true for this old man," John said through tears of joy. "I never believed this could happen," he told the crowd.
Once inside the new home, John excitedly explored each immaculate, freshly painted and brightly decorated room. He noticed Army memorabilia placed on the wall, along with a brand- new veteran's hat placed by the door. It was a touching tribute that the group left to honor John's service.
"You guys have made us proud," Jeremy posted on the group's Operation John Holaday Facebook page. "We are so thankful for this opportunity, and these students have made memories that will last a lifetime," he added.
"Thank you for your service, and enjoy your new home, Mr. John Holaday," the teens posted directly to the veteran.
PassItOn and The Foundation For A Better Life believe these high school students are true heroes. Their action is a wonderful example of the value of helping others. They have shown us all how much good we can accomplish when we work together to achieve a common goal. The group's selfless determination helped make a veteran's dream home become a reality. The teens built the home on the foundation of honor, respect and kindness.
Watch video here: https://youtu.be/yZ7KdAOmO_I
Sign Up to our PassItOn blog to be inspired: http://www.passiton.com/passiton-blog
Please tell us about your everyday Hero. The Heroes among us are ordinary people whose actions leave a lasting and positive impact in their communities and demonstrate the potential in all of us. Their heroic acts uphold our shared values. Help honor these individuals by creating a billboard and sharing their story at: https://www.passiton.com/your-billboards/create
SHARE this heartwarming story with your friends and family to uplift their day.
If you find these posts inspirational, consider favoriting PassItOn on Facebook so you never miss out on our weekly posts.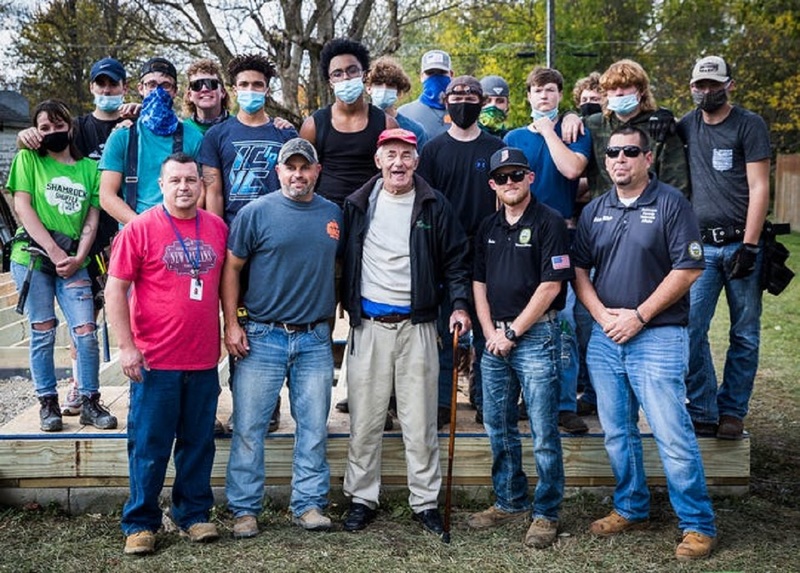 photo credit: Facebook